If you are planning to get married in Bali and want your wedding photos to be just that bit quirky, different and out of the ordinary then following are some off beat ( yet great)  places in Bali where you can take take wedding photos. These are ideal if you do not want the typical beach wedding or cliff top wedding snaps.
These places are all fairly easy to get to and offer a level of privacy where you can style the shoot. All you need is a great photographer ( we can organise this for you) and a bit of imagination. Remember you are in Bali so have fun, go for it and enjoy what this place can offer in terms of scenery and a magnificent wedding back drop.
# 1 Great wedding photo destination: The Caves at Uluwatu
Uluwatu on the southern part on the island is about a 60 minute taxi ride from Seminyak but will give you an amazing very out of the ordinary wedding photo shoot. It's a mecca for surfers so you will have to be there at low tide and dodge the surfers ( who are very polite) entering and leaving the water. It's a very spiritual place so the rocks, cliff face, and ocean combined will make for a great wedding photo shoot. You can even go to one of the restaurants on the cliff to add to the dramatic effect.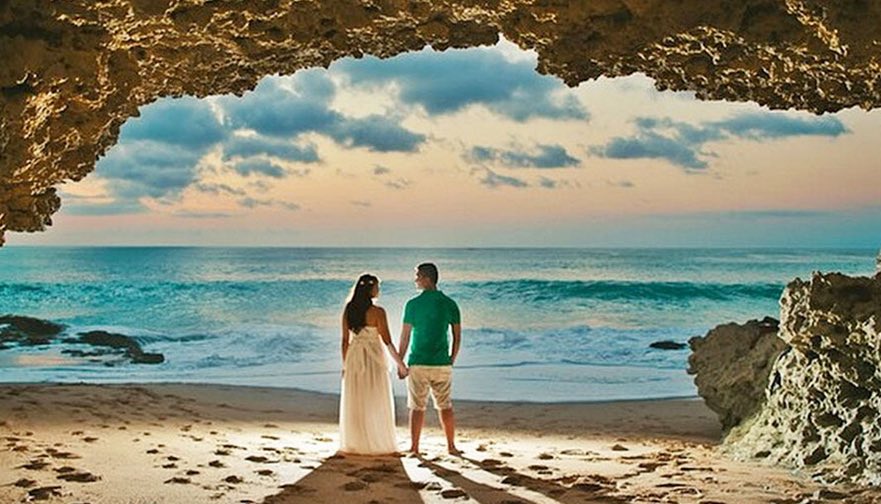 # 2 Seriously cool wedding photo shoot destination: Pandawa beach
The first time I went to Pandawa beach I really couldn't believe it. The cliff walls are absolutely incredible and the whole place seems so surreal. There are massive limestone cliffs with huge statues carved out into the cliff. How did they do this, you have to ask? An amazing engineering feat. In any case, this place is insane for the types of wedding photos you are going to get. It's about a 45 minute drive from Kuta and if you get there in the afternoon you will get incredible sunset pics over the ocean as well. The whole vibe of the place makes you feel like you are on another planet – certainly very different from anything in Bali.
# 3 Escape Bali, get on a boat and hit Lembongan Island
If you want to experience Bali how it was 20 years ago then Lembongan Island, which is a 50 minute boat trip from Sanur is going to deliver some really great wedding pictures. This is a full day trip, there and back but there are heaps of good restaurants on the island. Perhaps even go there before the ceremony, take the photos and spend a day or two exploring the island. If you are a surfer, then this place is paradise – bring a board. Lembongan has got everything from rugged volcanic cliffs, quiet Indonesian streets (which make a great setting) to beaches and mangroves. All you need is someone with a bit of imagination a small amount of local knowledge and the rest will take care of itself.
# 4 Try Tanah Lot for some Balinese cultural wedding pictures
Situated on the west coast of Bali about a 90 minute drive from Seminyak this magical and very popular tourist destination will have your camera man snapping away. We suggest sunset as the best time for the photo shoot, this way you can have the hero shot of the sun setting over the horizon with he temple as a back drop. Watch out for high tide as there is some pretty big surf at this location.
# 5 The rice fields of Ubud are a perfect setting
The pictures speak for themselves. You will need a local guide to show you around but Ubud's rice fields are some of the most scenic in the world. In fact, the images here are picture postcard. You cannot go wrong here as there are so many gorgeous locations to pick from. You will see what I mean from the following photos.
# 6 Besakih Temple is a stunning location for your wedding photography.
Why not go the whole way and have your photos taken at a religious site is Bali. Whilst you must be very respectful of the Temple and dress appropriately you can get some great photos with the temple and it's surroundings as a back drop. Besakih Temple is the most holy place for Hindus in Bali and is on the east coast of the island on the slopes of Mount Agung. The entire area is seriously picturesque and you will get some awesome wedding photos of the couple in traditional Balinese sarongs. It's a full day trip so be well prepared. From the photo below you will get an idea of the beauty of this place.
# 7 How about an underwater photo session at Tulamben
There is a great ship wreck there where you can see some great schools of fish and an establish coral form. The whole place is really surreal and magical. Again, it's Bali so why not? If you are into Scuba and water sports this is certainly thinking outside the square. This will be easier to organise than you think.
# 8 Lake Batur in Northern Bali
Get up early, hop into your organised mini van and head off to Kintamani and venture all the way down to Lake Batur. Magical lake setting is perfect for any wedding photos. The lake is generally very placid and the scenery everywhere you look is a mix of Balinese traditional temples, mixed with rugged landscapes.
# 9 Villa Wedding at Uluwatu
I was trying to stay clear of mentioning any villas in this article but this one has to make the list because of it's views. It's on the cliff top overlooking the ocean in the most incredibly stunning villa. Yes its the Villa Bale Agung and all you need to do is look at the photos and you will get an idea of the great photos you can take. You can also throw in the ceremony and the wedding party here as this place caters for this. In fact, we have even organised a few weddings here.
Natalie is a seasoned expert in the wedding industry with over a decade of hands-on experience. She regularly writes for esteemed servers like "Bali Wedding" and "Wedding Venues," offering her insights on Bali's best locales for nuptials. With a deep understanding of the Island of Gods' diverse landscapes, Natalie is the trusted voice for those seeking the perfect spot for their dream wedding.