For those couples thinking about having their wedding in Bali they may be wondering if it is a good idea. I mean there are so many things that can go wrong with a destination wedding, especially in a place like Bali where the culture and laws are so different from our back home in Australia.
Here at Your Bali Wedding we thought we would put your mind at ease about having your wedding in Bali by highlighting 10 advantages of having your wedding in Bali.
#1 A common question we get asked all the time is what is the cost of a wedding in Bali? It's  a lot cheaper than having your wedding back in Australia, New Zealand, Singapore or USA. That's right. We all know how cheap Bali can be and this means you can save probably up to 50% on the cost of your wedding. Wedding venues, food, flowers, alcohol, the ceremony even the flowers and photographers are cheaper. This way you can put the money you save on your wedding towards your honeymoon…which leads me straight on point number 2.
# 2: You can have your honeymoon in a tropical paradise right after you finish your wedding. In some cases the wedding ceremony can be at a villa and this is where you will be staying – how perfect is that.
# 3: The culture is so different to what we are used to in Australia that it makes for a memorable and unique wedding experience. Just imagine having your ceremony by the cliffs at Uluwatu or near the beach at Seminyak – there are so many exotic places where you can say your vows. Plus the wedding photos afterwards are going to be incredible. make sure you speak to Cindy and her team of expert wedding planners about organising the photography so that you get some classic sunset photos. Bali is really a magical island where you find romance blossoms and it's the perfect backdrop for a destination wedding.
# 4: It's not to far from Australia so getting there from most capital cities is less than 6 hours. This means there's little or no jet lag and it's easy for friends and family to fly over for the wedding. On top of this, airfares are pretty cheap. Jetstar and Virgin offer great deals if you are planning your wedding outside the school holiday period.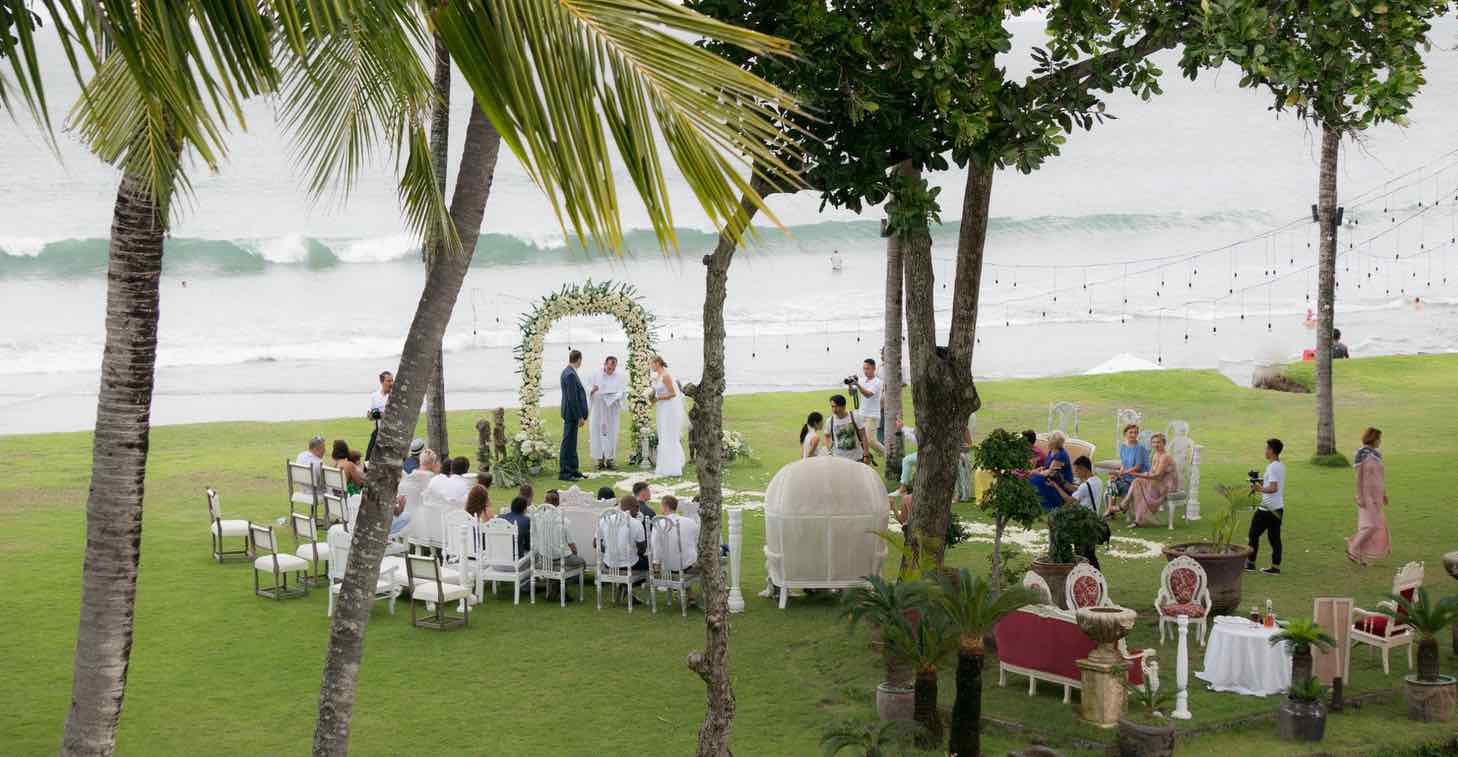 # 5: Bali is such a romantic place that having your honeymoon here is a no brainer! Great restaurants, fantastic shopping, top sightseeing, adventure are all rolled into 1 neat honeymoon package to keep you and your partner busy 24/7. On the other hand if you prefer to just chill out and relax by your own private pool villa then that's also totally do-able. At Your Bali Wedding we partner with Bali Villa Escapes ( a villa management agency) so we can hook you up with fantastic, luxurious honeymoon villas. Again, Cindy and her team will be able to help your arrange this.
# 6: You can get legally married in Bali and this will be binding back home. There is a bit of paper work involved depending on your nationality and religion. The Your Bali Wedding team will help you through this entire process.
# 7: Bali's weather is warm and tropical the whole year so  getting married there means you don't have to worry about those coldJUne,  July, August winter wedding days. his is also the dry period in Bali so the risk of rain is low.
# 8: Organising a wedding venue in Sydney, Melbourne, Perth or Brisbane that your really like may also be popular with other couples and you may not get the venue your like. Fortunately in Bali there are so many awesome venues that finding the right one that suits your requirements is generally easy to do. Fancy getting married in a chapel by the ocean – not a problem there are many of these. How about a venue in a tropical garden – this is easy as there are also many garden style weddings.
# 9: In Australia you are fairly limited by what you can do with your wedding. Try and go outside the norm and you can expect to pay a small fortune. In Bali we can customise weddings based on your specific requirements and if your want a certain theme or style, we can do it all for you at a much lower price.
# 10: Lastly, it's just fun. The planning, the anticipation and finally the actual day are all something that is planned well in advance so all you have to do is make it over here. Having a wedding planner handle the whole event for you is such a fantastic idea as we do all the running around &  leg work. We deal with suppliers, hotel/villa venues, celebrants and all the contractors. This makes it so easy for you. We get the wedding brief upfront, including the budget and then we tailor make a wedding that's going to absolutely blow you away. All you have to do is read some of our testimonials from happy couples.
So there you go. !0 reasons why you should be getting married in Bali. What's next? Contact Cindy and her team or simply fill out the inquiry form on the website and we will get back to you that day. we have been helping Australian couples get married in Bali since 2005 – we are probably the largest and most well respected wedding planning company on the island. Just see for yourself!
Natalie is a seasoned expert in the wedding industry with over a decade of hands-on experience. She regularly writes for esteemed servers like "Bali Wedding" and "Wedding Venues," offering her insights on Bali's best locales for nuptials. With a deep understanding of the Island of Gods' diverse landscapes, Natalie is the trusted voice for those seeking the perfect spot for their dream wedding.